If you're one of those luck enough to own an iPhone could you imagine ever losing it? What would you do to get it back? Well it happened my wife Cathriona this weekend. After a fun night out in Rathmines celebrating a friend's birthday, it wasn't until after we left the bar we were in, that Cathriona realised she didn't have her phone.
Mobile phones nowadays are incredibly personal and increasingly more valuable. We've all had that moment when we realise something precious to us is suddenly missing. We started the search by trying to ring it but got nothing, straight to voicemail, the phone was off. We looked everywhere for it and even tried back at the bar, which had closed at this point. The staff member locking up hadn't seen it and suggested calling again in the morning after the cleaners had been in. Obviously not what we wanted to hear. Cathriona was pretty upset at this point, mainly because it wasn't just another phone but because I had just recently passed it on to her after I got my new one. We were enjoying sharing calendars, photos and playing Letterpress together.
At this point we still had no idea where it could be. I was pretty sure someone else had it, especially as the phone was turned off despite it still having plenty of battery left.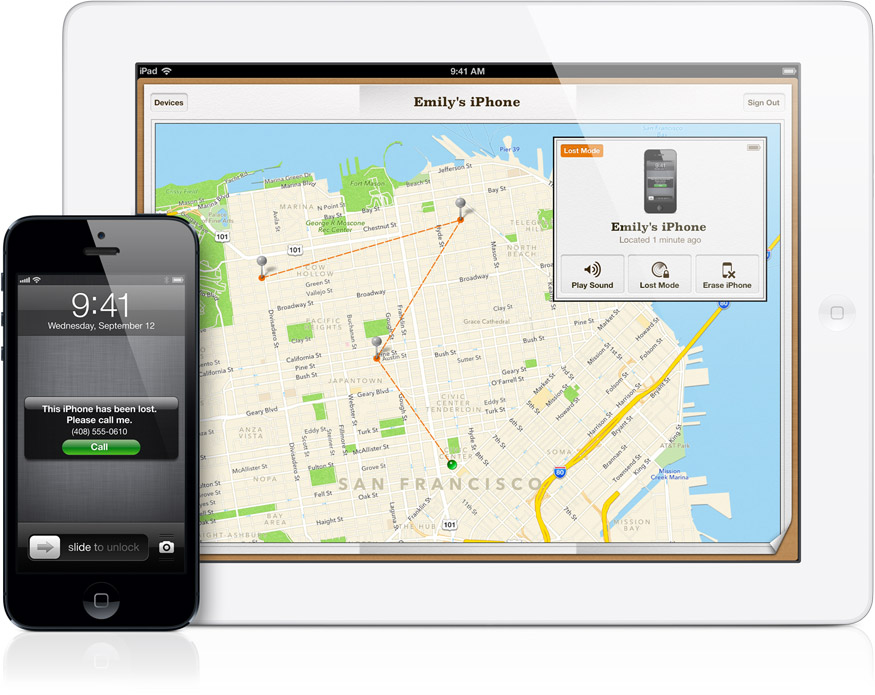 My next step was to fire up the Find My iPhone (FMiP) app and login to Cathriona's iCloud account. I wasn't expecting much as I knew the phone was off and FMiP required a network connection. Even though it couldn't locate the phone I was still able to put it in 'Lost Mode' which locked the phone and displayed a message on screen saying the phone was lost and a number I could be contacted at. Now we just had to wait and hope the phone was turned on again and got a network connection.
As soon as I woke up the next morning I checked my phone immediately. No missed calls and no texts. Next I went straight into FMiP. It couldn't find the phones current location but its whereabouts had been logged about an hour ago in a housing estate in Lucan, about 20 minutes drive from where we lived. Someone had obviously turned it on, saw the lost message and turned it off again. I left Cathriona sleeping and was on the road in a few minutes following my iPhone's sat-nav to the location. In the car I rehearsed in my head what I would say to people as I started knocking on doors. I needed to be calm and direct but also try to trigger some empathy as it was up to whoever had the phone as to whether I got it back or not.
When I got to the estate the map marker rested on the corner of two streets and likely meant it was one of two terraced houses. The first and mostly likely house had no-one home. The second house and their neighbours both had families with young kids in them, both of which were very nice and understanding but neither had been out clubbing the night before.
Just before I left I checked FMiP again to make sure I had got the right location but noticed the marker had moved and the connection was live! The phone was turned on and located about 15 minutes away somewhere in City West. I was on the road again and thought this time was going to be harder as the marker was off the road in the middle of a big empty area on the map. When I arrived I realised the reason for this.It had lead me to a new building development that obviously didn't have its roads on the map yet. One problem though. This wasn't a housing development, it was all apartment blocks.
My heart sank as I saw the large apartment block where the marker had pointed to. I pulled out FMiP to double check I had the right one but discovered the marker had moved again! This time it was just a few hundred meters down the road. I thought for a moment maybe someone was messing with me, maybe I'm going to be chasing this dot all day, all over the city. At least the marker was live, so I knew I was close.
This time I thought I'd have a better chance than searching an apartment block as the marker was again at a junction between two roads but this feeling didn't last long. The marker had brought me to City West Shopping Centre. Are you kidding me?
I parked and made my way to the entrance wondering how I would find it in a shopping centre of all places. As I continued to check the map just before I entered the shopping centre I noticed the marker had moved ever so slightly onto the road in front of the entrance. It was moving. I looked around at the cars and people moving passed me. It could be in one of these cars, with any person. I checked the map again. It was still moving but slowly. I had to be someone walking. I saw a few people moving in the same direction as the marker, a young mother with a buggy and just ahead of her, two young guys with shopping bags. I followed along behind them tapping refresh on the map and sure enough the marker was just a little ahead of me. One of these people had to have the phone. We got out to the main road, the young mother staying on my side and the two young men crossed the road. The marker crossed the road too. It was them, it had to be. My heart was pounding. This could be it. I had used an iPhone to track an iPhone, in a city of over 1 million people to two guys in the suburbs in about an hour. Surely this is some serious James Bond shit going on here.
I picked up the pace and followed closer behind the two guys. My next move would prove it. In FMiP I hit the "Play Sound" button. This button issues a command to the lost phone to start playing a high pitch alarm sound at full volume. All I needed to see was either one of them reach for their pocket. A few seconds after I hit the button I just about made out the high pitched sound myself. Both guys fumbled at their pockets.
I tapped one on the shoulder, introduced myself and watched the confusion spread across both their faces as I asked had they been in the bar in Rathmines the night before and did they know what that alarm sound was. The first one showed me the Android phone he had in his hand. The second one fumbled a bit more getting his phone out. It was an Android too but the sound was still going, coming from his other pocket. Finally he reached in and pulled out Cathriona's iPhone. Got it.
After a minute or two of an increasingly tense conversation where I requested my property be returned, the Gardai being mentioned and the guy refusing to return it. He claimed it was his because he had found it, I had to put the brakes on and calm everything down. I introduced myself again and explained the whole situation and made it clear all I cared about was getting the phone back and that would be the end of it. The guy paused and thought for a moment then made a phone call to "the person who found the phone" after which he took the phone out and put it in my hand saying nothing.
I smiled, shook his hand and thanked him telling him he did the right thing. Just before we went our own ways I handed him the €20 from my pocket. I said that doing the right thing should be rewarded and next time he'll do the right thing again.